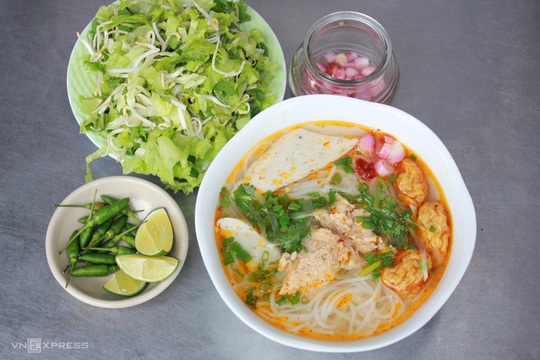 Fish ball noodles
Quy Nhon fish cake noodle soup has an unmistakable taste, making visitors coming to this coastal area want to taste it. This specialty is the combination of delicious fish cake slices, fish bone broth, mild sour taste of ripe tomatoes, pineapple ... The ingredients for cooking fish noodle soup are mackerel or barracuda fish, fish. barnacles, termites, grouper ... Tourists come here can enjoy this dish on Nguyen Hue, Nguyen Tat Thanh streets ... Price is about 20,000-40,000 VND / bowl.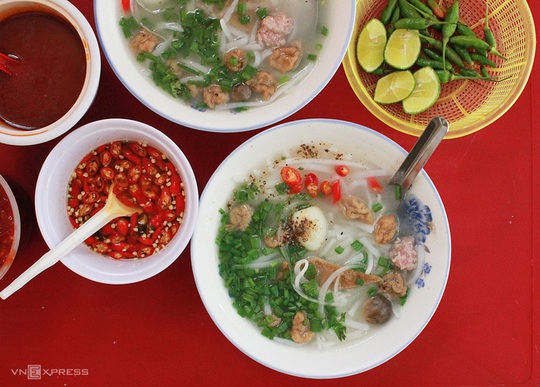 Fish cake soup
If you love the delicious taste and sweetness of the fish, visitors can not ignore the fish cake soup. There are two types of banh canh, rice flour and wheat flour. The way to prepare fish cakes and broth is like fish noodle soup, but served with quail eggs, shrimp balls. To enjoy delicious soup cake, visitors can visit Bach Dang, Huyen Tran Cong Chua, Truong Chinh Street ... Price is from 15,000 to 25,000 VND / bowl.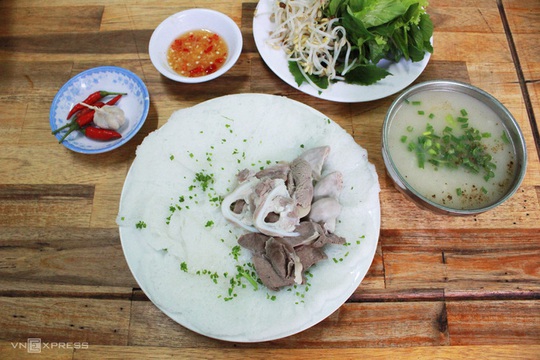 Cake asked porridge heart
Referring to Quy Nhon specialties, it is indispensable to ask porridge. Heart is selected from the best pigs, processed cleanly, arranged with a plate of cake and raw vegetables, accompanied by a hot and thin porridge cup. Pick up a leaf of cake to ask, add a piece of pork belly and some raw vegetables, dab lightly in a cup of delicious fish sauce and bring it to your mouth. The sweetness of the cake, the pork heart mingled with the rich flavor of Binh Dinh fish sauce, appeals to many diners. Porridge asked porridge costs from 20,000 to 50,000 VND / serving, sold much in Phan Boi Chau, Tran Phu, Dien Hong, Vu Bao ...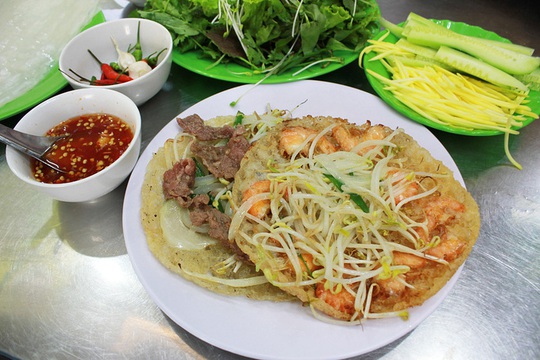 Shrimp pancake dance
Pancakes is a typical dish of the Central people. However, the shrimp pancake dance in Quy Nhon has its own characteristics. The way of making shrimp pancake is not fussy, but the most important is the selection of ingredients and skill of casting the cake.
Shrimps are selected as the size of thumb, just remove the net, wash it, cut off the head and put in the oil mold. After that, stir the shrimp ripe pink, cover with rice flour, add bean sprouts, chopped onions. The characteristic feature of Quy Nhon shrimp dance pancake is fragrant crunchy crust, rich dipping sauce, sweet taste of pineapple. Pancakes served with rice paper, sprouts, green mango, cucumber ...
Visitors can enjoy this dish in many dishes around the city, from roadside shops to restaurants, the most crowded place is in the area of ​​Dien Hong, Dong Da, My Cang village ... Price from 15,000 VND to 25,000 VND.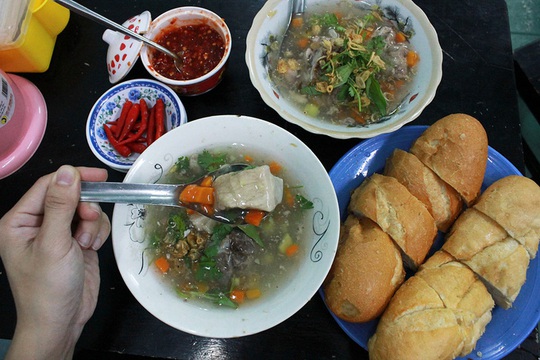 Lagu bread
This is one of the oldest dishes in Quy Nhon, attracting customers by the delicious taste of the broth, mixed with hot and crispy bread. Vegetables such as lotus seeds, sweet potatoes, carrots, red beans ... are carefully selected. Pork is carefully simmered to taste sweet, without fishy smell, and the tenderness of the meat is just right, not chewy or too soft. A bowl of Lagu bread costs 25,000-30,000 VND, the most famous is the restaurant in the alley 171 Nguyen Hue street with more than 30 years of experience.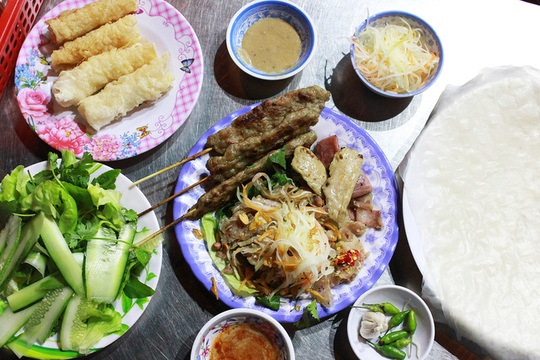 Tear mixed
Tré is one of the famous specialties of the Nau people. Pork meat consists of 2 parts: meat meat and pork bacon, marinated with sesame, pepper, garlic, salt, galangal and especially rice. After the marinade is mixed, it will be wrapped in a layer of old guava leaves to make it aroma, incubated in a layer of dry straw. Tea can be eaten directly or mixed with sour vegetables, peanuts to add more attractive. Visitors can enjoy this dish at restaurants on Ngo Van So food street, Ngoc Tran Cong Chua street ... Price is from 20,000 to 100,000 VND, along with many other unique dishes.